You do business internationally? So do we!
Think globally, act globally – with POSTADDRESS GLOBAL
Correct address information is the basis for every customer relationship. All sizes and types of businesses trust POSTADDRESS GLOBAL to maintain their international address files.
Worldwide partner network
We provide for the success of your cross border dialogue marketing campaign by correcting, cleaning, updating and researching addresses. All services are available from one source – Deutsche Post Adress.
This is possible due to a worldwide network – from Italy to Sweden, from Switzerland to Canada. In Europe and North America we know all of the existing suppliers and their services on the market. As your independent partner, we choose the service provider, whoever is the most suitable.
The market leader's trade name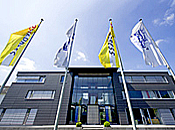 POSTADDRESS GLOBAL is Deutsche Post Adress's trade name. Deutsche Post Adress is a joint venture between Deutsche Post, the biggest logistical and postal company in the world, and Bertelsmann, the largest media company in Europe. Deutsche Post Adress is known to be the leading supplier of address management solutions in Germany. Six members of staff, who work in Munich and Guetersloh are responsible for POSTADDRESS GLOBAL's international address maintenance solutions.
Our know-how used to maintain your addresses
On our website postaddressglobal.com we would like to share our know-how with regards to international data quality solutions (IDQS), by making available to all those interested a IDQS-Information database, which enables the optimisation of your address maintenance activities.
Your advantages with
Postaddress Global
You have only one source for all services relating to address optimisation
You have access to top products from the relevant country – quality that has already been tested.
You receive a tailor-made solution for you and your requirements.
You reduce your postage costs and number of returns.
You increase your knowledge of your clients.