Address Management in Switzerland
What you ought to know about maintaining your Swiss addresses

Here you find useful information on maintenance, updating, cleansing and enrichment of Swiss customer addresses.
Data Quality Solutions in Switzerland
Geographical and postal classification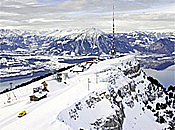 Switzerland is divided into 26 cantons and 2,636 local authorities. There are 9 postcode districts, which are then subdivided into 83 postcode areas.
Street Directories
There are street directories available in various levels of detail.
Not only street names are listed in these directories but also residential areas and cadastral sections (plots of land), as they appear in Swiss addresses.
Data Protection
Even though Switzerland is not an EU country, it tends to follow the EU data protection directives. Due to the Swiss federal structure, data protection is governed independently by the cantons. Hence there are 27 data protection laws and as many data protection regulators in Switzerland.
Postal Service
The Swiss Post (DIE POST or rather SWISS POST) is with 58,000 employees the biggest Swiss postal company and a federal institution under public law. Since the liberalisation of the postal market, private service providers have established themselves on the market. They have joined together creating the association KEP&Mail. Members are among others DHL, swissmail, Quickmail or Spring Global Mail.
Marketing Association

The Schweizer Direktmarketing Verband (SDV, "Swiss Direct Marketing Association") represents 120 member companies. The Robinson list (no-mail list) is also managed by this association.
Analysis / Test your Swiss addresses
A test to check the quality of your customer addresses is available and highly recommended! In addition, the accuracy of the addresses is also checked to see if the addresses are deliverable and up to date. A detailed report is supplied, which allows for strategic recommendations for the optimisation of data quality.
Quick Info Switzerland
Inhabitants: 7.6 million
(world ranking 94 of 193)
Households: approx. 3.4 million
Companies: approx. 450,000
GDP per capita: 67,560 $
(world ranking 4)
Human Development Index:
world ranking 13
Mailing Volume: medial
(75 per head/year)
Questions on Swiss addresses?