Invalid Addresses in Belgium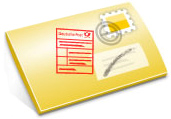 1. Deceased files
At the moment no deceased files are available for address cleansing in Belgium.
2. Undeliverable addresses
After merging the database against relocation databases, no separate database exists for undeliverable addresses, just a special code indicating a relocation without new address. 
3. No Mail requests
It is possible for private individuals to enter their names onto the "Robinson list/no mail file". In 2010 the list contained approx. 17,500 individuals, plus 31,000 variations (other household members or a secondary residence).
The Robinson List is regularly updated and distributed by the Belgian Direct Marketing Association (ABMD). There is a "no mail file" (Robinson Mail) for private individuals and a "no telephone file" (Robinson Phone) for private individuals unwilling to receive advertising telephone calls.
Companies can access these lists, which are available online, free of charge.
POSTADRESS GLOBAL assists in cleansing your Belgian addresses of deceased, invalid addresses and also addresses of those who do not want to receive promotional mail. Allow us to give you an non-binding quote – just call.
Further Data Quality Solutions in Belgium: