Invalid Addresses in France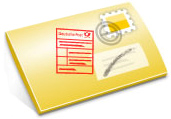 1. Deceased files
In France, deceased addresses are allowed to be collected but this is only a recent development. A file with 430,000 deceased addresses is now available which originates from the mail order companies.
2. Undeliverable addresses
Your addresses of clients who have relocated that are between 6 and 36 months old are only flagged. New addresses are not supplied. This service is called "Estocade®" (undeliverable file of 3,400,000 addresses). We have the new addresses but it is possible, due to financial reasons, for these addresses only to be marked. 
3. No Mail lists
The French no mail file "La Liste Robinson" is managed by the direct marketing association "Union française du marketing direct". Entry for private individuals onto this list is free of charge: UFMD, Service Liste Robinson Stop-Publicité, 60, rue la Boétie, 75008 Paris.
An email "no mail file" (Robinson List) now exists, which is managed by the French direct marketing mail order companies. The existence of this list enables the right to object to email advertising. One can register online via www.e-robinson.com.
The French telephone service provider France Telecom manages the Liste Rouge (red list) for those who object to the publication of their telephone number. The Liste Orange (orange list) is composed of contact details, which are not allowed to be used in marketing campaigns.

POSTADRESS GLOBAL assists in cleansing your French addresses of deceased, invalid addresses and also addresses of those who do not want to receive promotional mail. Allow us to give you an non-binding quote – just contact us!
Further Data Quality Solutions in France: