Postal Correction of French Addresses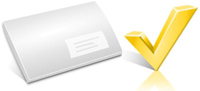 POSTADRESS GLOBAL recommends a postal address verification as essential before any merging with data occurs. Only correct postal addresses can be recognised accurately and updated.
In France, one can even add on extra information (e.g. district, building etc.) as part of the process. POSTADRESS GLOBAL can organise on your behalf an address validation using a) the official French street directory and b) an additional database, in which over 90% of French households are available.
Further Data Quality Solutions in France:
Quicklinks
Further information about …