Postal Correction of German Addresses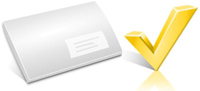 We recommend a postal address verification of your German addresses, as an essential service before any merging of data (duplicates, updating etc.) takes place. For only correct postal addresses can be recognised accurately and updated in the various stages of the cleansing process.
In Germany, address standardisation and cleansing is carried out via a merge with one of the street directory files (PAF file), which is based on Deutsche Post's original postcode data. This contains over 1.2 million street names and all 28,000 postcodes.
You also have access to information about local authorities, districts, government districts and federal states with the official community identification number from the Federal Office for Statistics. As the data is collected, addresses are validated and then inputted into your system. Addresses may also be enriched with further marketing relevant information.
POSTADRESS GLOBAL can organise a postal address correction for your German addresses. Just ask for a non-binding offer!
Further Data Quality Solutions in Germany
Quicklinks
Further information about …