Postal Correction of British Addresses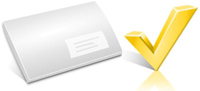 We recommend a postal validation of your British addresses as an essential service before any merging of data (duplicates, updating etc.) takes place. Only correct postal addresses can be recognised accurately and updated in the various stages of the cleansing process.
In Great Britain, postal correction is carried out via a merge with one of the offered street-directory files (Postcode Address File, PAF).
Further Data Quality Solutions in Great Britain:
Quicklinks
Further information about …