Relocation Data in Great Britain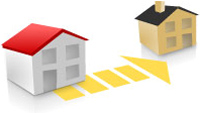 In one year, 6.5 million people in Great Britain relocate, nearly 10% of all British residents.
In comparison to most other European countries, there are different sources of data available from various data owners. As these only partly overlap, the usage of as many sources of data as possible is recommended. An in-house solution, where the merge purge (using the customer database) is carried out internally, and where the external data for the merge is delivered to the client, is barely feasible.
For this reason, cleverly devised software solutions are implemented, whereby the data is prioritised (using a ranking order) in compliance with the client's request and according to the number of matches with the respective customer database. The end result is clean data, which is up to date and does not overlap.
A new undeliverable address is marked with an undeliverable flag. The client can then decide how he wishes to deal with the output data.
Classical data processing services as well as online and ASP solutions are available, with which an efficient and quick merge purge can be carried out.
Some of the relocation or trace files in Great Britain:
NCOA Update (National Change of Address Update): Royal Mail's relocation addresses are generated via the forwarding mail contracts, similar to POSTADRESS MOVE in Germany. Royal Mail claims that approximately 50% of all relocations are registered via the forwarding mail contracts, of which 50% agree to the transfer of the new address data. NCOA Update contains over 21 million records dating back to 1995. Monthly updates of approx.100.000 records are available.
Absolute Contacts: The counterpart to Experian's Goneaway file. The relocation data is sourced primarily from partnerships with businesses. Updated monthly.
Equifax reConnect: reConnect completes Equifax disConnect by enhancing undeliverable addresses, where an address is available. All data is merged or matched against the Edited Electoral Role (EER) and other sources. Updated monthly.
GAS Reactive: The relocation data of the ReaD Group is sourced from GAS (GoneAway Suppression file). The ReaD Group also uses its partnership with Skipton i.e. the subsidiary Callcredit Information Group. Updated monthly.
POSTADRESS GLOBAL can organise a merge purge using British relocation addresses for you. We would like to advise you – just call or send an email!
Further Data Quality Solutions in Great Britain:
Quicklinks
Further information about …