Address Management in Italy
What you ought to know about maintaining your Italian addresses

Here you find useful information on maintenance, updating, cleansing and enrichment of Italian customer addresses.
Data Quality Solutions in Italy
Geographical and postal classification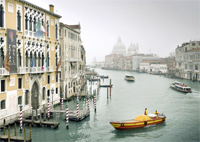 Italy is politically structured into 20 regions and 109 provinces. It is divided into 10 postcode regions, which are then sub-divided into one to three regions.
Street Directory
Poste Italiane offers the postcode directory 'CAP Professional' (CAP stands for "Codice di Avviamento Postale", literally: Postal Expedition Code), as well as the detailed street directory, "CAP street file" of over 150 large towns, to verify address data.
Data Protection
The Italian data protection law is known as one of the strictest in Europe and is in some areas even stricter than the EU regulations. The opt-in procedure is used for address data.
Postal Service
Despite the liberalisation of the postal service providers, the state postal company Poste Italiane has a monopolistic position. It has around 150,000 employees with a market share of approx. 95% in the postal delivery market. Competitors are subsidiaries of TNT, who are mainly active in Northern Italy and claim to have a market share of 4% in the parcel market.
Marketing Associations

The biggest Italian direct marketing association is the AIDiM (Associazione Italiane per il Direct Marketing) founded in 1984 with the main office in Milan. The Italian Direct Marketing Association Italia has its office in the neighbouring area 'Segrate'. This association is the Italian division of the international Direct Marketing Association DMA. Hence, it is of special interest to foreign businesses looking for a contact partner.
Analysis / Test your Italian addresses
A test verifying the quality of your customer addresses is available and highly recommended! The accuracy of the addresses is checked by POSTADRESS GLOBAL to see if the addresses are deliverable and up to date. You receive a detailed evaluation report, which allows for strategic recommendations for the optimisation of the quality of the data.
Quick Info Italy
Inhabitants: 58 million
(world ranking 23 of 193)
Households: 23.9 million
Companies: 2.7 million
Cities > 100,000 inhabit.: 45
(Rome, Milan, Naples, Turin, Palermo, Genoa, Bologna, Florence, Bari …)
GDP per capita: $ 35,435 
(world ranking 21)
Human Development Index:
world ranking 23
Mailing Volume: low 
(30 per head/year)
Mail Order Affinity: low
(26% of the pop., Europe: 52%) 
Questions on addresses in Italy?