Postal Correction of Italian Addresses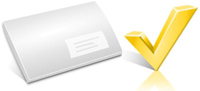 We recommend a postal address verification of your Italian addresses as an essential service before any merge (duplicates, updating) takes place. Only correct postal addresses can be recognised accurately and updated. Your client data is compared with Poste Italiene's official postcode and street directory file via POSTADRESS GLOBAL.
Contact us and allow us to give you an non-binding quote!
Further Data Quality Solutions in Italy:
Quicklinks
Further information about …