Address Management in the Netherlands
What you ought to know about maintaining your Dutch addresses

Here you find useful information on maintenance, updating, cleansing and enrichment of Dutch customer addresses.
Data Quality Solutions in the Netherlands
Geographical and postal classification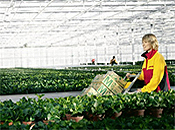 The Netherlands is divided into 12 provinces and 418 local authorities. There is no subdivision into districts. The Netherlands has nine postcode areas, each of which is subdivided into 10 postcode regions.
Street Directory
POSTADRESS GLOBAL offers you the chance to verify your addresses using the TNT postcode directory, which contains all cities, towns, communities with the corresponding streets, house numbers and postcodes.
Data Protection
A data protection government agency oversees the adherence to the data protection regulations. Businesses which collect and process personal data, must register with the data protection government agency. The consumer must be informed about the storage of the data. Each individual has the right to see the stored data and demand corrections. The opt-out principle is used.
Postal Service
The biggest postal service provider in the Netherlands is TNT, founded by the Australian logistical company and the state postal service PTT. This private company has 161,000 employees worldwide. The competitors Sandd and BusinessPost concentrate on the delivery of addressed mail and on delivery to postboxes. Select Post Almere concentrates on house to house mail drops.
Direct Marketing Association

The Dutch direct marketing association, known as the Dutch Dialogue Marketing Association (DDMA), represents the interests of over 200 business members. The DDMA organises events on the various direct marketing themes. They have their own committee for data quality, who hold a "data quality day" and a "data quality award" is presented.
Analysis / Test your Dutch addresses
A test to check the quality of your customer addresses is available and highly recommended! The accuracy of the address data is also checked to see if the addresses are deliverable (on address level) and up to date. A detailed report is supplied, which allows for strategic recommendations for the optimisation of data quality.
Quick Info Netherlands
Inhabitants: 16.8 million
(world ranking 59 of 193)
Households: 7 million
Companies: 686,000
Cities > 100,000 inhabitants:
25 (Amsterdam, Rotterdam, Den Haag, Utrecht, Eindhoven …)
Mailing Volume:
high (100 per head/year)
Mail Order Affinity: medial
(49% of the pop., Europe: 52%)
Questions on addresses in the Netherlands?