Postal Correction of Dutch Addresses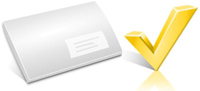 Your incomplete or inaccurate customer addresses are identified, completed and corrected when standardised against the biggest Dutch household database, TNT's "The National Consumer File".
The National Consumer File covers nearly all private households in the Netherlands. As the data from KPN Telecom is integrated into this file, telephone and fax numbers are available.
Further Data Quality Solutions in the Netherlands:
Quicklinks
Further information about …