Relocation Data in the Netherlands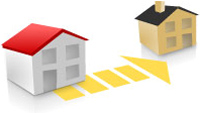 Approximately 10% of the Dutch population relocate annually. In the Dutch updating process, an automatic address validation with TNT's household database "The National Consumer File" is obligatory. In this validation prior to any merge with relocation data, up-to-date, valid street and area names as well as postcodes are checked, completed, corrected and standardised.
First and foremost however is the identification of the differences between your customer addresses and the addresses in the household-database. Whenever an address does not match, it is then merged with the actual relocation database.
The change-of-address database contains relocation information, which is sourced from the Dutch Post's forwarding request contracts as well as data from KPN Telecom and other sources. Nearly 85% of all movers in the Netherlands use the forwarding request procedure. These addresses are available via POSTADRESS GLOBAL, providing that the mover does not refuse his address being used for updating purposes.
Hence the change-of-address database has the highest possible coverage of relocation data in the Netherlands. One can also find out how many people were part of the relocation and if someone stayed at the old address.
Further Data Quality Solutions in the Netherlands:
Quicklinks
Further information about …