Postal correction in Switzerland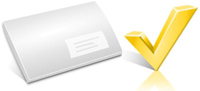 We recommend a postal correction of your Swiss addresses as an essential service before any merge (duplicates, updating) takes place. Only correct postal addresses can be recognised accurately and updated further along in the process.
When standardising addresses using the Swiss Post's street directory, a Swiss peculiarity must be taken into consideration: there are many small towns and residential areas without official street names or house numbers. In such cases, the official insurance number for the building is used, in order to enable identification of the household. Also included are names of residential areas and cadastral sections (plots of land).
Furthermore, via POSTADRESS GLOBAL, the community number from the Federal Statistical Office as well as the number of households at each address is available. There is also a database with six million private addresses which can be used to verify the deliverability of your Swiss addresses.
Further Data Quality Solutions in Switzerland:
Quicklinks
Further information about …