Relocation Data in Switzerland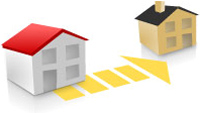 The relocation rate in Switzerland is approximately 15%. This is relatively high (in Germany it is only 10%).
The Swiss Post's relocation data is based on the mover's (private or business) forwarding request contracts. The update is carried out on a daily basis. The total amount of relocations at the end of 2010 was approx. 11 million records.
Postbox addresses may also be updated. The up to date postbox number and the correct postbox postcode is delivered for a standardisation with your existing addresses.
Further Data Quality Solutions in Switzerland:
Quicklinks
Further information about …