Relocation Data in the USA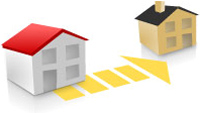 Change of address services helps meet the needs of business mailers by providing a cost-effective, efficient means of obtaining accurate change-of-address (COA) information. These services save mailers time and money.
NCOALink
USPS provides the relocation file, NCOA (National Change of Address) to American companies for updating purposes. The database is sourced from citizen's requests to the USPS to forward mail (NCOA card) and contains more than 160 million change of address records in the last four years. Only about 20% of US movers don't submit a NCOA card.
For companies who would like to send mailings to the U.S., matching and cleansing of data using the USPS NCOA file is essential before the mailing is sent out. Firstly, because they would be quickly overwhelmed with postage returns and secondly because of the costs involved. The USPS also charge a higher postage fee, if the mailing list used for the mailing was not updated within 90 days before the mailing date.
As one of the few non-American service providers, POSTADRESS GLOBAL may organise for you the matching and cleansing of data using U.S. Postal Service's relocation data.
The USPS restricts the usage of their NCOA file to non-American companies. The updating of one's own address file, without knowledge of the market, was virtually impossible for small to medium-sized European companies.
Using an extensive network of partners from the U.S.'s data quality and address maintenance markets, POSTADRESS GLOBAL enables it's European clients to cleanse and match their address data against NCOA relocation data. This service is only available worldwide to a handful of non-American service providers. This opens up new possibilities for address maintenance and also for dialogue marketing for European companies who are present in the U.S. Market.
PCOA and ACOA
The PCOA and ACOA databases allows access to more than 60 million address changes reported by sources other than USPS-providing an additional means for you to stay in touch with consumers who have moved. Changes are contributed by publishers, catalogers, retailers, and other institutions nationwide. It covers a 60-month time period.
Further Data Quality Solutions in the USA: