How Adler reduces its number of returns
Austrian relocation data: Successful address maintenance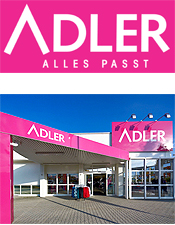 Using international relocation information, Adler optimises its direct marketing potential, not only for Germany, but for Austria as well. Find out more about our relocation information.
The company

Adler is one of the biggest textile retailers in Germany. They have been internationally successful for a long time. 125 branches are situated in Germany, Austria and Luxembourg.

Initial Situation

In order to keep in contact with their Austrian regular customers, Adler sends approximately 1 million sales letters per annum. Each postal return initiates an effort to find out the new address so as to resend the sales letter. Furthermore, some clients feel neglected if they do not receive advertising material, indicating the best offers on sale.

Solution

Since 2005 Adler has been working with POSTADRESS GLOBAL to counteract this problem by having access to the current Austrian relocation data.

Result

The number of returns from the regular Austrian customers could be reduced significantly. Undeliverables were minimised and no extra costs for returned mailing pieces were incurred. The prompt forwarding of the mailing supports customer loyalty.