High quality catalogues to high quality addresses
Grüne Erde pays attention to address maintenance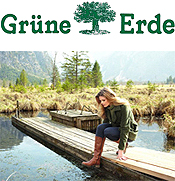 Every company finds postage returns annoying. Even more so for Grüne Erde ("Green Earth"), who sends out a high quality catalogue which represents their high quality products. In order to prevent unnecessary returns due to undeliverability, this Austrian exemplary company uses POSTADRESS GLOBAL.
The client

Grüne Erde is an ecological exemplary enterprise throughout Europe. This Austrian company offers everything for a healthy and natural living and sleeping environment (furniture, mattresses, bed linen and home textiles), living and kitchen accessories as well as a broad product line of natural cosmetics. Distribution for all German speaking countries is carried out directly to the client via catalogue.

The challenge

Grüne Erde has more than one million German, Austrian and Swiss customer addresses. A lot of them receive the Grüne Erde catalogue. The products are high quality, so the catalogue also needs to be of high quality. Each undeliverable catalogue has doubled the impact, due to lost orders, expenditure on materials, postage and returns, expenditure on address research and on the second delivery.

The solution

Grüne Erde cleanses their complete client and enquiry database via POSTADRESS GLOBAL. The services include postal address correction, merging against deceased files and relocation files. The individual services are carried out by the address maintenance provider ABIS, a subsidiary of Deutsche Post Adress.

The result

The high quality Grüne Erde catalogue is sent to high quality, regularly updated addresses. Grüne Erde minimise postage returns and increases response rate.